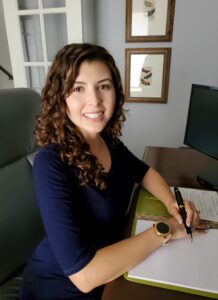 IsaBella Parada, LPC
Adults, Trauma, EMDR, Dissociative Disorders
IsaBella wholeheartedly believes that the client is the expert on their own life and the master of their own destiny. Therefore, her primary focus is to collaboratively build a strong foundation of trust, acceptance, and mutual respect that honors the client's story as well as their willingness to change. She will work with you to create individualized, achievable goals that translate to sustainable change and identify how to maintain your progress outside the counseling environment. She provides a safe, supportive, and non-judgmental space and person-centered therapy to assist clients achieve personal growth and change.
IsaBella has experience working with adolescents and adults for a variety of issues, including anxiety, depression, life-transitions, trauma-related issues, and personality disorders. She employs an eclectic approach to therapy, which means she utilizes a variety of skills and techniques that best suit the needs of a specific client.
IsaBella is a Licensed Associate Counselor who obtained her Bachelor's degree in Psychological Sciences and a Master's degree in Clinical Mental Health Counseling from Northern Arizona University. She is trained in Eye Movement Desensitization and Reprocessing (EMDR), Structural Dissociation Theory, Cognitive Behavioral Therapy (CBT), Dialectical Behavioral Therapy (DBT), Motivational Interviewing (MI), and Solution-Focused Brief Therapy (SFBT).
IsaBella invites you to learn how you can challenge yourself to try new experiences and become unstuck from the unhelpful patterns that keep you from living a full and complete life.
To contact IsaBella Parada, call 480-718-1261 or contact us here.